Rabbi Daniel Korobkin - Beth Avraham Yoseph of Toronto
Rabbi Daniel Korobkin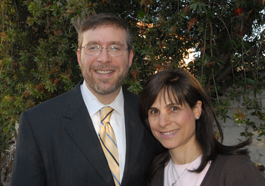 Dear Friends,
Welcome! I hope you are enjoying the BAYT website and that it gives you a small taste of what awaits you upon entering the doors of our holy home of prayer, Torah study, and community. We are always updating our website, so please check back often.
To see my blog, please click here.
If I can ever be of service, please don't hesitate to call: (905) 886-3810 x125.
It would give me great pleasure to greet you personally at shul. Until then, enjoy the website!
Warmly,
Rabbi N. Daniel Korobkin
---
Members Respond to Rabbi and Rebbetzin Korobkin
---
Biography
Rabbi Korobkin is a past executive board member of the Rabbinical Council of America, having also served as regional vice president. He is the founder of the RCA's Rabbis' Forum, an exclusive listserv for Orthodox rabbis. Rabbi Korobkin serves the Toronto, Ontario area as a certified mohel.
Rabbi Korobkin received his rabbinic ordination from Ner Israel Rabbinical College in Baltimore, where he studied Jewish law, ethics and philosophy. He received his Master of Arts degree in medieval Jewish and Islamic thought from UCLA's Department of Near Eastern Languages and Cultures, and his Master of Science degree from the Johns Hopkins University School for Engineering at the Applied Physics Laboratory. He was an adjunct professor at Muhlenberg College, and wrote a feature column for Hakol, the Lehigh Valley's Jewish newspaper. Before moving to Canada in 2011, he was Rosh Kehilla (spiritual community leader) of Yavneh in Los Angeles. He also provided synagogue services for the Orthodox Union's entire west coast region. He has served as spiritual leader for Young Israel Synagogue of San Diego (where he was also the congregation's founding rabbi) and for Congregation Sons of Israel in Allentown, PA. He is the author of the new translation of the classic philosophic work The Kuzari: In Defense of the Despised Faith.
Links to Shiurim on Kosher Tube
Thu, 28 July 2016 22 Tammuz 5776