Rabbi's Blog
Day 4: A Day for the Birds, Academia, and Saying Thanks and Goodbye
2014-01-22 03:55:57 PM
Today was our last day of this historic expedition with Prime Minister Harper to Israel. We left early from the airport in order to spend most of the day up north at the Hula Nature Preserve, organized and maintained by Keren Kayemet L'Yisrael, what you and I know as JNF (Jewish National Fund). The purpose of the trip was to name the Nature Preserve in honour of PM Harper, and the auditorium within in honour of Mrs. Harper.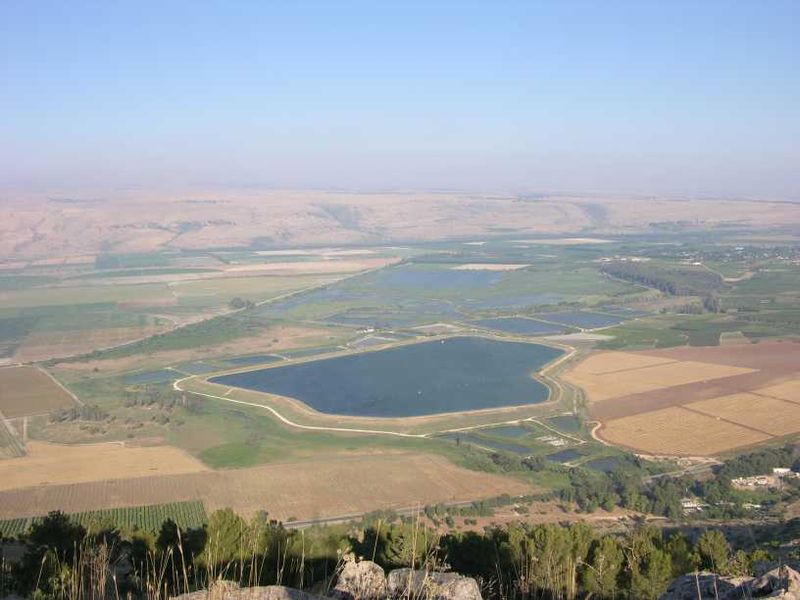 When Jews first came to the area, they drained the Hula swamp in the hopes of improving the area. What they neglected to realize was that the swamp was necessary for the ecosystem, in that this was a migratory stop for hundreds of millions of birds traveling across Europe, Asia, and Africa via the Middle East. In the last couple of decades, the swamp was replenished and the area is now once again habitable and hospitable to these migratory birds. So hospitable, in fact, that many birds now no longer just use the Hula Valley as a stop on their journey; they instead call it home. Sort of a cool metaphor for our people, eh?
When we first arrived, we were greeted in a make-shift tent auditorium with refreshments, but were quickly ushered onto makeshift tour buses that were led by tractors.
And indeed, although I initially thought that perhaps the guides were exaggerating about the number of birds that come here every fall and spring, we got just a small sample of the birds who remain here over winter, and the number was massive.
We saw birds….
And more birds…
And yet more birds…
(you get the idea). Birds as far as the eye could see.
Mr. Harper, who's devoted, together with so many Canadians, to the preservation of wildlife and our ecosystem, received a well-deserved honour for an outdoors Canadian. He was presented in a special ceremony by JNF, and graciously expressed his thanks.
This was also a great day to catch up with a number of Canada and BAYT expats, who came out both to Hula and to Tel Aviv U. Here is but a sampling of photos, and forgive me if your photo isn't yet up on the blog, but bl"n it soon will be.
A special commemorative postage stamp was issued by the Israeli government especially for the occasion, and we all received one as a souvenir:
We then proceeded back on the buses, straight to Tel Aviv University. Because of the big schlep to go all the way up to Hula Valley, which is right near the Lebanon border, we didn't arrive at Tel Aviv U. until around 6:30. We waited again in an auditorium and the PM arrived and was presented with a number of speakers and musical presentations. He was conferred with an honorary doctorate by the university. A number of the speakers noted how important it was for PM Harper to agree to receive this honour from an Israeli university, because much of the world today is involved in the BDS (boycott, divest, sanction) movement, dedicated to marginalizing and isolating Israeli academia. This, of course, is the type of anti-Semitism that the PM referred to in his historic speech at the Kenesset, which involves singling out Israeli above all other countries in a wave of hypercriticism that is unprecedented for any other country.
The PM graciously accepted his honour, and was also addressed by the mayor of Tel Aviv, Ron Huldai, a very humorous and good-natured fellow. He had heard how the night before, the PM had rocked the house with his performance, and so he proceeded to play Auld Lang Syne on his halil. We then heard a beautiful quartet perform Antonin Dvorak's "The American" in honour of the PM (I guess American is short for Canadian).
The PM then answered some important questions from the MC of the evening about Canada's economy and its foreign policy regarding the Middle East. One of the great things this administration can be proud of is the fact that before PM Harper took office there was a trade agreement between Canada and only five other nations. Today, there is a trade agreement with 42 nations.
When asked about Egypt and Syria, the PM was quite tough, stating about Egypt that while others were overly enthusiastic about the so-called "Arab Spring," he was more circumspect since free elections should not produce another oppressive and xenophobic regime, but should rather produce democracy. About Syria, he stated that one of his reasons for going to Jordan was to see how Canada could help with the huge Syrian refugee problem that has ensued because of the "heartbreaking" loss of life in Syria. His toughest words were reserved for Iran, however, when he stated that Canada will be watching vigilantly to see if Iran's words match their actions. Canada will be the first to re-introduce the toughest sanctions and will urge the international community to follow in suit, should Iran fail to deliver on its promises.
The evening was capped with a reception where each one of us got to shake the PM's hand and take a photo. I don't have it yet, but when I do, you can be sure I'll post it! Someone remarked what a tough job it is to just stand there, shake 300 people's hands, and say a few nice words. I responded, "I do that every Friday night!" (and I love it!). What did I say to the Prime Minister when shaking his hands? I'll tell you over Shabbos, stay tuned….
So now I'm here at the Ben Gurion Airport, sitting on the floor while my laptop and phone are plugged into the recharge station, waiting for our plane. I'm looking forward to seeing you all over Shabbos, when I hope to deliver a more meaningful message in person.
What I can tell you now is that I've never been prouder to be a Canadian Jew. What a country and what amazing leadership! Prime Minister Harper has already promised to return to see the progress of his nature reserve in Hula, and who knows, maybe I'll get to go back with him someday!
I can't conclude this blog without expressing deep hakaras hatov - gratitude - to all the people who made this amazing and historic trip happen. Of course, to Mr. & Mrs. Harper, but also to all the MP's who advocated for members of their riding, and especially to all the aides and planners, both members of the MP's staff and volunteers, who did a truly outstanding job. One young staffer, David Bellous, was such a good-natured mensch and worked so hard. I also heard that his mother follows this blog. And so, to David's mom, know that your son is a wonderful young man - you raised him well!
Warmest regards from a beautiful and holy country, our country, Israel.
Signing off for now,
DK
Sun, July 5 2020
13 Tammuz 5780
PLEASE CLICK HERE TO DONATE
PLEASE CLICK HERE TO DONATE TO OUR SPECIAL YIZKOR APPEAL
SEEKING VOLUNTEERS TO MAKE PHONE CALLS
If you are able to help out, please click HERE
Like, Follow and Subscribe
Today's Calendar
Earliest Tallis / Tefillin

: 4:42a
Shacharis

: 6:30a
Shacharis

: 7:00a
Daf Yomi

: 7:15a
Shacharis

: 8:00a
Daf Yomi

: 8:45a
Shiur B'Ivrit

: 8:45a
Shacharis

: 9:00a
Shacharis

: 9:30a
Latest Shema

: 9:32a
Mincha

: 2:00p
Mincha

: 3:45p
BAYT FAMILY OLYMPICS
: 6:00p
Plag Mincha/Maariv

: 7:15p
Mincha/Maariv

: 8:50p
Maariv

: 9:45p
Maariv

: 10:30p
---
View Calendar
Join Our Mailing Lists
Click here to join our mailing lists
Sun, July 5 2020 13 Tammuz 5780