Rabbi's Blog
Canadian Solidarity Mission to Israel, July 21-23, 2014
2014-07-22 04:13:42 PM
To show our unity with the people of Israel during the Gaza War


Day Two (July 22): Sderot, Be'er Sheva, and more
The news is changing so rapidly, so I can only report on the latest hour of information.
We leave early for Sderot, and hear the news that there are now over 180 casualties of the war in hospitals, some with serious injuries. 28 chayalim are now confirmed deceased. There was talk of a humanitarian cease fire today, but that never happened, although we are told that compared to previous days, today was relatively quiet.
The consistent message that we've been hearing from everyone is that it is NOT in Israel's best interests to stop this operation before the tunnels are completely eliminated, because if we don't get rid of the tunnel network now, we'll just be faced with another tunnel nightmare in the near future. Hamas' tactic is known to ask for a cease fire to give them time to repair the damage and regroup
Tzvi Sperber is our tour guide, a musmach from Hesder yeshivot, who just got back from Poland doing a tour. He runs a non-profit organization, J-Roots (jroots.org) , dedicated to using Jewish sites around the world as educational tools about Judaism.
We said Tefillas HaDerekh in our armored and bulletproof vehicle with special kavanah, knowing that our protection is in the hands of the Shomer Yisrael.
It was very difficult to read of the funerals taking place now in Israel for the fallen. Last night there was a funeral in Haifa for a chayal boded (a soldier who has no family in Israel), by the name of Nissim Sean Carmeli. Nissim's parents live in Texas and they waited for his parents to arrive for the levaya. The owner of Maccabi Haifa had heard that Nissim was a fan and so urged people to come for the funeral; 20,000 people attended. Nissim's parents were overwhelmed by the outpouring of sympathy. We heard about this and decided to spend some time at the end of our day to be menachem avel (comfort the mourners). We thus took a detour to Raanana before returning at the end of the day to Tel Aviv and spent a few minutes with the Carmeli family. They couldn't believe that Jews from Canada would care so much about them and their son, and this brought the father to tears.
Back to our trip: Tzvi told us that Israeli intelligence now is truly remarkable, but there are still many holes since we don't have that many people left in Gaza. There are cameras all over the Gaza border and they are manned by women in Sderot who alert the army of what the cameras are picking up.
We come to Sderot on the shuk day where the vendors are selling fresh fruit and vegetables with a few tzatzchke sellers. The supportive signs are all over. The one below reads: "באחדות ובגבורה ננצח!" (With unity and strength we will be victorious!). It's a bit surreal to see people going about their daily lives while at the edge of a battlefield.
We go to an underground bunker in Sderot where there's entire an intelligence office. We meet with Eddie Azran who's the rep for the Toronto twinning to Sderot through UJA.
He tells us: What is going on in the rest of the country is normal for Sderot over the last 8 years, since Gaza was given back. We're told that with each war the enemy is learning more and is readier to fight. We find ourselves paying a higher price to live in peace with the continued threats.
Next we meet with Mayor Alon Davidi. He tells us that artists and singers are coming daily to Sderot to entertain the children in the community centre - very important to preserve the children's emotional health. There are 24,000 residents in Sderot today, which has increased greatly over the last 10 years. All schools, day care centres, markets are open. Sderot is a symbol of the struggle against the radical enemies of Israel. If you're looking for a city to invest in, invest in Sderot!
We are also met by Rabbi Dovod Fendel of the Hesder yeshiva in Sderot, a NY native, and he impresses upon us the importance of the yeshiva to the war effort. We will later travel to the yeshiva and see how it has become a temporary stopover site for the chayalim to get their gear ready and come for a warm meal and some relaxation before going back into Gaza.
Kurt Rothschild meets with us in the bunker office - what a nice surprise to see this Toronto patriarch. Here's us together on the rooftop of the Sderot yeshivat Hesder in front of the famous Menorah made of Kassam rockets.
Went to Bnei Shimon, a network of yishuvim just a bit farther from Gaza than Sderot and on the way to Be'er Sheva.
Then to Beer Sheva. Our first visit was to a daycare centre. While most camps and daycare are closed, those people who are government workers or doctors who serve vital jobs are able to keep their children in the community centre for a day care program. It was great fun handing out "tzchachkes" to them, and I thank my amazing wife, Karen, for picking up some small toys right before I left for Israel.
Afterwards we went to another major planning centre underground, almost like a war room. There are high def screens where a group of ladies watch every single major intersection and field phone calls about emergency services.
It was there that we met the mayor of Be'er Sheva, Ruvik Danilovich, a passionate and charismatic leader. He emphasizes that he speaks for all Israelis who feel unanimously that while the price of fighting this war is very high, to himself, to his city, to all the chayalim, to all the people in Israel, it is vital to complete the operation so that we can finish this once and for all.
We are once again debriefed on our way back to the hotel after being menachem avel in Raanana. The army now estimates that operation will need another 2 weeks and is asking the govt to grant it full freedom to continue.
We're also informed that the despite the fact that Israel is in the midst of a huge war, Nefesh B'Nefesh just brought 230 olim today from the US! Kol hakavod!
We eat dinner at a restaurant with Michael Oren, a great admirer of Canada and the former Israeli ambassador to the US. He tells us: this is the largest military op since Yom Kippur war. There are many more tunnels than was thought, and they are extremely difficult to detect. Israel was the first to find the solution to missiles, developing the 21st century technology of Iron Dome anti-missile system. But with tunnels we are facing a medieval, primitive threat, which requires a low-tech solution. Oren suggested digging a moat all along the Gaza border, just as was done in medieval times. We need to remember that historically, defensive technology always lags behind offensive technology, so we'll need to get to work asap.
Morale in Israel is hight, although there's an aggregate trauma to all Israelis as a result of the rockets. Additionally, Israeli is suffering major economic losses, with the war already having cost $2 billion. Israel will sustain it, we've been thru worse. Regarding the media attitudes toward the war, it's true that the media has been somewhat more sympathetic this time around, but the media is starting to play to an old Hamas ploy: force Israel to raise the civilian casualties in Gaza, and the world will start to side with them. You can read his full article here.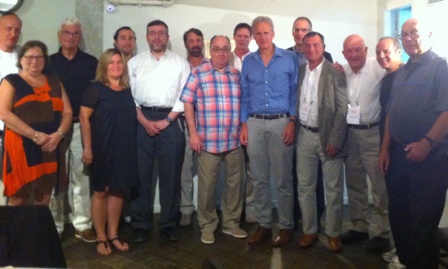 Finally, we've just been informed that several airlines have canceled their flights to and from Israel, with the exception of ElAl. There was a rocket that exploded not far from Ben Gurion airport today, and with the news of the Malaysia airliner shot down, people are freaked out. We'll keep you posted as this news continues to develop.
In the meantime, Israelis continue along with their lives. Tel Aviv is still bustling, perhaps not exactly as much as a typical summer, but the beaches and restaurants are filled with people. Israelis are a strong people, and confident and optimistic about the future. B'Ezras Hashem we will prevail decisively, very soon!
Mon, July 13 2020
21 Tammuz 5780
PLEASE CLICK HERE TO DONATE
PLEASE CLICK HERE TO DONATE TO OUR SPECIAL YIZKOR APPEAL
SEEKING VOLUNTEERS TO MAKE PHONE CALLS
If you are able to help out, please click HERE
Upcoming Events
There are no upcoming events at this time.
Like, Follow and Subscribe
Today's Calendar
Earliest Tallis / Tefillin

: 4:48a
Daf Yomi

: 6:00a
Shacharis

: 6:20a
Shacharis

: 6:45a
Shacharis

: 6:50a
Shacharis

: 7:30a
Daf Yomi

: 8:30a
Shacharis

: 8:30a
Latest Shema

: 9:36a
Mincha

: 2:00p
Mincha

: 3:45p
Plag Mincha/Maariv

: 7:15p
Gemara Shiur

: 8:30p
The Book of Samuel

: 8:30p
Mincha/Maariv

: 8:45p
Maariv

: 9:45p
Maariv

: 10:30p
---
View Calendar
Join Our Mailing Lists
Click here to join our mailing lists
Mon, July 13 2020 21 Tammuz 5780